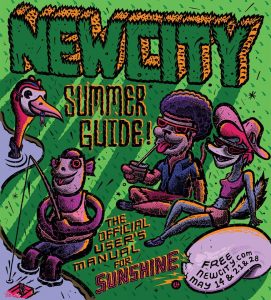 Chicago's original Summer Guide returns on May 12, our twenty-second annual edition devoted to the city's most active season.
So, whether you're selling a swimsuit for the beach, operating an al fresco restaurant or selling beer, wine or picnic baskets to pack for a night at Pritzker Pavilion or Ravinia, the potential riches of summer abound. And of course we can't forget theater productions, art shows and street fairs.
Summer Guide is a meditation on the season that brings redemption to life in the city. Channel that happiness in this issue.
If summer is a season important to your business or institution, you cannot afford to miss this one.
Please email [email protected] or call (312) 243-8786 for rates or more information.
Publication date: May 16-31 (Street date May 12)
Ad space deadline: Thursday, May 5
Ad artwork deadline: Friday, May 6
You can get a read on our previous years at Summer.Newcity.com