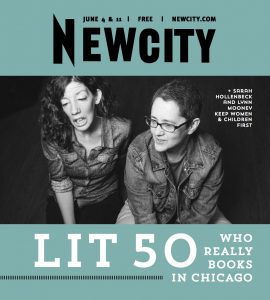 Newcity enthusiastically announces the return of our biggest literary issue of the year, Lit 50: Who Really Books in Chicago, timed to coincide with the Midwest's biggest literary event, the Printers Row Lit Fest.
As part of our Leaders of Chicago Culture Series, this year the Lit 50 edition will focus on Chicago's community 0f writers, spanning poetry, fiction and non-fiction.
It will be an issue that lovers of the literary arts cannot miss and that writers, and anyone who wants to write, won't miss.
For rates or other information, email [email protected] or call 312.243.8786.
Publication date: June 1-15 (Street date May 26)
Ad space deadline: Thursday, May 19
Ad artwork deadline: Friday, May 20
Click here to view last year's edition of Lit 50.