A blockbuster way to reach Lakeview residents and Chicago cinephiles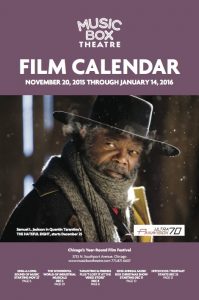 The Music Box Theatre, Chicago's premier venue for independent and foreign films, brings sophisticated cultural audiences and decidated Lakeview residents through its doors for its cinema programming and stylish lounge with bar. Local businesses and film institutions can reach these audiences by advertising in the Music Box Theatre's bi-monthly magazine guide.
With an active two-month user life, the events-centric calendar is printed as a pocket-sized magazine (5.375 inches wide by 8.375 inches tall) and functions as both a visitors guide to the venue as well as a marketing tool for neighboring and citywide businesses and events.
Distribution: 30,000 circulation includes comprehensive reach of Music Box patrons, plus standalone distribution to more than 200 locations, including local hospitality, retail, restaurant and dedicated news boxes.
Publication Date: January 15
Space Deadline: December 18
Artwork Deadline: December 21
Advertisers Get:
Print ad (quarterly theater attendance estimated at 35,000)
Listing on MusicBoxTheatre.com (170,000 unique visitors over three-month ad cycle) in partners section and in rotation on home page

Available advertising is limited and is expected to sell out before deadline.