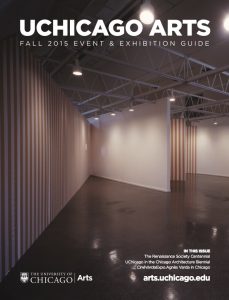 Following UChicago's holiday break, Hyde Park comes to life with students, professors and neighborhood visitors crowding its streets.
Many of these visitors are drawn to the neighborhood by the University of Chicago's distinguished cultural offerings. From the Logan Center and the Arts Incubator to Court Theatre and the Smart Museum, the University of Chicago is home to renowned arts destinations, and world-class artists and emerging creators alike.
UChicago Arts: A quarterly guide to arts & culture at the University of Chicago
UChicago Arts is the face of the university's cultural world, and the UChicago Arts magazine offers an unparalleled opportunity to reach the elite cultural audience its programs serve.
The UChicago Arts publication is printed in a magazine format, with a press run of 56,000 copies that will be inserted into the January 16-31 The Players: The 50 leading characters in theater, dance, comedy & opera/Life 101 edition of Newcity, street-teamed to select locations around Chicago and, of course, available at all of the University of Chicago's key cultural venues.
Please call 312.243.8786 or write to [email protected] for rates and more information. Space is limited.
Space reservation deadline: November 25
Advertising materials deadline: December 1