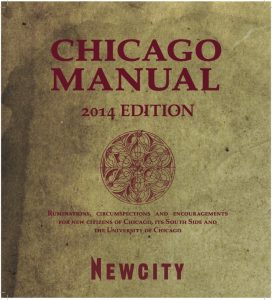 Imagine a guide to life on campus at the University of Chicago, written by those who have already lived it. We did, and for the last two years we've published it in our Chicago Manual (which you can read here).
Nobody knows the University of Chicago better than Newcity. Our founders/publishers sport three degrees between the two of them, and we continually seek and publish writing from alumni the university produces.
This fall, for the third year in a row, we're teaming up with current students, recent graduates, not-so-recent graduates and lifelong South Siders to craft an orientation edition of Newcity designed to introduce undergraduate and graduate students alike to life in the city, in Hyde Park, and at the University of Chicago.
This special edition of Newcity will be distributed solely on campus, in Hyde Park and in adjacent neighborhoods and will be produced in an all-color, bound tabloid version.
Advertising Space Deadline: Monday, September 14
Advertising Material Deadline: Wednesday, September 16