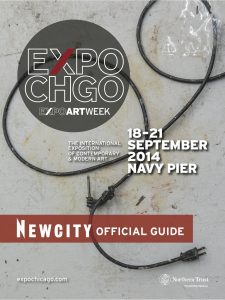 EXPO CHICAGO, The International Exposition of Contemporary Modern Art, will be presented at Navy Pier's Festival Hall from September 17-20, 2015. This art event features 100 leading international galleries and offer a curated blend of contemporary and modern art.
Expo Chicago Guide will be published at the beginning of September, and will incorporate details on all of the events taking place at Navy Pier and around Chicago as part of EXPO ART WEEK. The guide, in a full-color glossy magazine format, will feature a minimum press run of 100,000 and will be distributed in three phases:
Phase 1: Standalone distribution at all participating cultural institutions and other relevant locations throughout the city.
Phase 2: Insertion into the complete press run of Newcity's September 3 Fall Arts Preview + the Chicago distribution of the Sunday New York Times.
Phase 3: On-site distribution at the fair at Navy Pier.
Advertising Space Deadline:  August 3, 2015
Advertising Artwork Deadline: August 7, 2015
Email [email protected] or call 312.243.8786 for rates and more information.