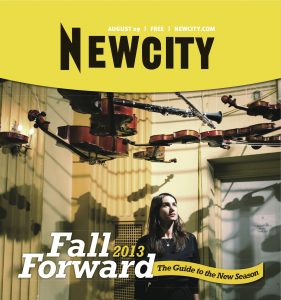 Fall is coming—though for many of us, it's here already.
As the publication of record for Chicago culture, a big part of our August is the creation of the annual bible of fall events planning, Fall Forward, wherein we cull the very best, the most essential events of the new season for our audience. Not to mention, new restaurant and bar openings, and a survey of the upcoming season in design.
Do we even need to say there is no better place to advertise a fall event? Of course not. But remember, not only will our audience be lining up for all the shows and openings, but we'll be meeting friends for drinks, or grabbing dinner, before or after the show. So bars and restos? Miss this one at your own peril.
Of course, before we even head out the door, we'll need to swap our swimsuits and flip-flops for more suitable attire, not to mention trade in the shaggy, sun-bleached look we've been sporting for a ready-for-primetime coif. Fashion boutiques? Salons? Get the picture? We hope so.
Please let us know right away if we can customize a marketing program for you. Because right around the corner comes Newcity's killer lineup of fall specials—the Big Art Issue, Art 50, Chicago Manual (University of Chicago Orientation Week) and, of course, UChicago Arts and the official guide to Chicago Artists Month—that will keep our audience, and your cash registers—hopping.
Advertising Space Deadline: Thursday, August 21
Advertising Artwork Deadline: Friday, August 22 (preferred)
Call 312.243.8786 or email [email protected]