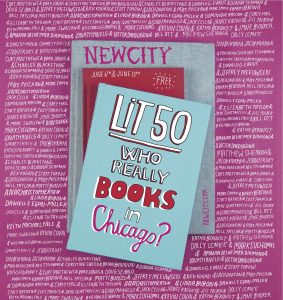 Newcity is thrilled to announce the return of our biggest literary issue of the year, Lit 50: Who Really Books in Chicago, timed to coincide with the Midwest's biggest literary event, the Printers Row Lit Fest.
As part of our Leaders of Chicago Culture Series, this year we return, as we do every other year, to chronicling the writers, poets and artistic forces who create Chicago's literary culture. (Click here to see previous editions.)
It will be an issue that lovers of the book cannot miss and that writers, and anyone who wants to write, won't miss.
Please reserve space by Wednesday, May 28. Artwork is due Friday, May 30.
Just hit reply for rates, or email [email protected] or call 312.243.8786.
And be sure to keep up with our literary coverage at Newcity Lit.