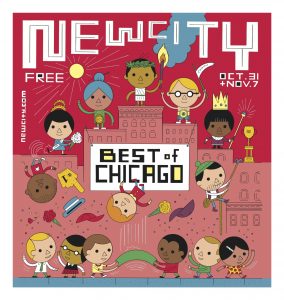 As we prepare the publish the twenty-eighth anniversary edition of Newcity on February 6, we wanted to share with our friends, colleagues and partners some good news about the year just concluded and some thoughts on our plans for this year underway.
2013 was a terrific year for Newcity, the best by any measure since the nineties. Overall revenues increased more than forty percent over 2012, of which digital was up seventy-five percent but remains a relatively small but important part of our financial picture. Our growth engine in 2013 was good old-fashioned print, both in our core publication Newcity and in a mostly new category for us, custom publishing, which grew dramatically last year.
Though we've had a hand in custom publishing for the arts since we started publishing the official guide to the city's major art fair in 2007 (EXPO Chicago, and previously Art Chicago), in 2013 it became a bona fide business for us. In addition to EXPO Chicago's official guide, we now publish two quarterlies—the program guide to the city's landmark Music Box Theatre and a newly launched magazine called UChicago Arts, which is a beautiful expression of the exploding arts culture at the University of Chicago. And last year we teamed up with Chicago's Department of Cultural Affairs and Special Events to publish the official guide to Chicago Artists Month, a relationship we have high hopes for going forward.
Notably, Newcity magazine's double-digit revenue growth was even more rewarding when you consider that we accomplished it while publishing less. We've tweaked our schedule these last few years, and now publish in print twenty-eight times a year as predominantly a biweekly. We nearly doubled our editors ranks last year, and now have dedicated editors covering art, dance, design, dining & drinking, film, literary arts, music and theater. We launched "Linework," a regular showcase of emerging Chicago talent in comics under the editorship of acclaimed author and cartoonist Ivan Brunetti, whose work often graces the cover of The New Yorker. This feature makes a nice bookend to the extremely popular column "Dime Stories," which opens each issue, penned by Chicago artist and legend Tony Fitzpatrick.
We grouped several of Newcity's signature issues—Lit 50, Players, Art 50, etc.—under the umbrella "Leaders of Chicago Culture" and revived a couple of them and launched two more, bringing our annual total to seven. These issues are arguably the most widely discussed publications of the year in their respective art forms, and a core part of Newcity's identity.
Our Newcity Hearts Arts program continued to donate substantial media support to arts fundraisers, ranging from Piano Forte, to Chicago Dramatists to the Harold Washington Literary Award. Please seek us out if you have an arts fundraising event and you'd like to raise its profile.
As of 2014, we've moved to better-than-newsprint paper and a bound (stitch-and-trimmed) format. And we increased our circulation by ten percent, something few other publications can boast. 
Why are we doing well at a time of continuing challenges in our industry, epitomized by the demise in print last year of several significant competitors?
Our strategy has been to refine our identity, to become even more precisely targeted in what we do. We're not a mass-reach publication, but rather tightly focused on an audience of city dwellers with a passion for culture in its broadest sense, from music, art, theater and film to dining, design and the urban landscape. Our mission, plainly stated, is to be Chicago's "Publication of Record" for culture in both print and digital.
Are we there yet? In some disciplines, yes; others, not yet. But we're reinvesting our revenues in increasing the quality and breadth of coverage in all disciplines, and have no plans to let up.
The reality is that print is an evolving medium, not a dead one. The digital landscape changes the economics profoundly, just as the advent of broadcasting did several generations before. And like that time, print continued to thrive, even if the dominant publications of the time did not.
We're witnessing a growing reconsideration of print as a powerful marketing medium, which we expect to continue in the years to come. We're seeing this across the spectrum of human experience (who could have imagined vinyl records' resurgence?), as the digital immersion of our lives accentuates the value of the tangible, of the physical. This is especially true for cultural providers and creative local businesses—the core of our advertising base—as well as larger brands wanting to cement an association with authenticity in customers' minds.
We hope you continue to work with us, support us, benefit from us and read us this year and in years to come. And make sure you pick up this week's Players edition, our largest version of that feature yet, which documents the cultural leaders of Chicago working in theater, dance, comedy and opera. And look for our twenty-eighth anniversary edition February 6, which will announce a very exciting new project for Newcity that should have Chicago talking all year.
Brian & Jan Hieggelke
Publishers