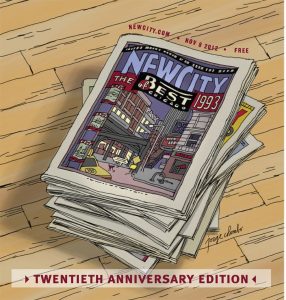 At the end of October, Newcity will be publishing its legendary Best of Chicago edition. Simply stated it's the publishing event of the year in Chicago and the one edition that anyone doing business with Chicagoans should advertise within.
"This has ever been one of the most provocative, intriguing, infuriating, pleasing publications that's around." —Rick Kogan, WBEZ, discussing the 2012 Best of Chicago
"One of the best of the Best Of lists. I'd put Newcity right up there at the top."—Bob Sirott, WGN, discussing the 2012 Best of Chicago
For this, our twentieth-first edition, we're publishing it on a brighter, heavier paper stock, and in a stitch-and-trim format that encourages audiences to keep it around for a full year, and to reference it over and over.
With 200 or so categories, most of which are not repeated for five years, Newcity's Best of Chicago has no competition as a chronicle of the finest our city has to offer. And with our signature takes on the city's zeitgeist provided in a comprehensive audience poll, you can be confident that your marketing message will reside at the very center of Chicago's conversation.
So give your operation the adrenaline shot of the year by booking space in the Best of Chicago.
Issue Date: October 31
Space Reservation Deadline: October 23
Preferred Materials Deadline: October 24
[email protected] or 312.243.8786
See the archives from the past five of years here: best.newcity.com