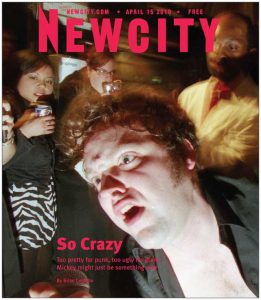 Print readers of Newcity will notice some changes this week. As promised in an editor's note, here's a more detailed explanation of those changes.
Clubs has merged with Music: Over the last decade, Newcity has dedicated more space and resources, proportionately, to clubs and electronic music than any other publication in town. Unfortunately, we never developed a commensurate ad base in that realm to match our commitment, and the shrinking page counts brought about by this economy made the depth of our commitment unsustainable. The recent demise of some of Chicago's most music-oriented clubs, notably Sonotheque and Lava, meant that our coverage has been increasingly limited to a smaller range of venues. Our commitment to dance music is not reduced in any way; it remains a personal favorite, and we'll run as many good stories about it that we can find. But since our current coverage is so much about the music, and not about the "room," we thought it appropriate to situate it within the Music section. We are very interested, however, in more experiential coverage of nightlife in general, not unlike our approach to restaurants, and invite writers with the chops and a night-owl nature to look us up.
Words has been renamed Lit: Since our corresponding web site is called Newcity Lit, this made sense to us. Longtime readers may recall we used to publish a standalone/pullout literary bimonthly called Lit.
The entire arts section has been reordered alphabetically: The longstanding section order of Newcity was originally created to reflect certain production issues, no longer relevant, and a secondary prioritization of our arts sections, also no longer relevant, making logic an obvious choice.
A more evolutionary change, accentuated this week, is our continued reduction of space given to straight listings, i.e. data, in favor of longer reviews and features. When we started Newcity nearly 25 years ago, print publications like ours had multiple editorial functions: we told stories, we reviewed and critiqued, and we offered lots of listings that could not be found elsewhere. With the internet offering a better vehicle for data aggregation and retrieval, the last function no longer makes sense. We've moved our mass of listings, and our archive of reviews, to the Web, on a site by site basis, organized by genre. We will continue to list events in print that we have something to say about: our vision of the future of print is one of "less mass, more class"; that is, we'll cultivate a somewhat smaller, but much more passionate group of readers who share our interests and find value in our world view. To that audience, we'll continue to function as a cultural curator, helping you cull the multitude of options and information sources, to find out the truly best of Chicago.
Print needs to celebrate what makes it special. Mechanically, that means its unique ability to combine words and images in a way that nothing else can yet fully imitate, especially when the flow of pages and the tactile quality of the paper itself are considered. But print also needs to be championed for its unique immersive quality. Reading is something that is rather intellectually consuming. You can't watch TV, listen to talk radio, drive a car, or browse the internet while you're reading. That immmersion is valuable: to the experience, and to the advertisers. And most other media outlets don't offer it.
Much of this is a big-picture take on how we see our world today, and is sure to evolve as everything does. And this series of changes is far from our final change: this is just one step in our print evolution in progress. We're looking for great story tellers to help us continue to be the cutting-edge voice for Chicago we've always been, and appreciate your feedback. Please share your comments on this page, or privately.
Thanks,
Brian Hieggelke
Editor